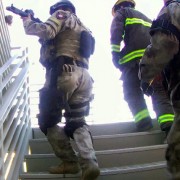 A panel of experts organized by SchoolSAFE Communications identified high-priority interoperable communications issues for The Briefings: A National School Safety Symposium at Columbine High School.
Centennial, CO, October 19, 2015 (Newswire.com) - ​The Briefings: A National School Safety Symposium at Columbine High School, invited SchoolSAFE Communications to organize a panel discussion on June 18, 2015, that would help communities understand the importance of direct communication with first responders.
The SchoolSAFE panel identified key communications issues that schools must address in the school safety planning stages: understanding the difference between communications operability and interoperability, analyzing an incident timeline to improve coordinated response outcomes, the need for full-scale exercises that test and evaluate interoperable communications, and defining the roles and responsibilities in sharing just-in-time information.
The symposium was hosted by the I Love U Guys Foundation, a non-profit created to "restore and protect the joy of youth through educational programs and positive actions in collaboration with families, schools, communities, organizations and government entities."
The symposium's line-up of leading school safety experts included Foundation Executive Director John-Michael Keyes, former Columbine High School Principal Frank DeAngelis, Lieutenant Colonel David Grossman, Police Psychologist Dr. John Nicoletti, and other international speakers.
SchoolSAFE's presentation featured radio communications from the perspective of a telecommunications innovator, sheriff's office bureau chief, district safety director, and a boots-on-the-ground responder.
Mike Coleman,

SchoolSAFE

Vice-President, discussed the difference between two-way radio communications

operability

and interoperability and compared typical response outcomes with and without real time radio communication between schools and first responders.
 
Tim Moore, Bureau Chief at Douglas County Sheriff's Office, conducted a moment-by-moment

timeline

analysis of a bomb scare reenactment in a Douglas County school in order to show where time can be saved to achieve an improved response outcome with

interoperable

communications.
 
Greg

Keasling

, the Director Student Services at Pueblo District 70, discussed how he has integrated

interoperable

radio communications in every school in his district in such a way that has changed the culture within the schools. He emphasized the importance of full-scale exercises that include multiple agencies, school personnel, and students, and the value of the lessons these stakeholders learn after each exercise.
 
Micah Richardson, Director of Safety and Response at Southeast Christian Church and School in Colorado, as well as a former EMT, discussed what he calls The Response Window: the opportunity for crucial communications that must take into account who is involved, the relationships needed, and the valuable information that is shared prior to entering the emergency situation.
The Briefings is an annual and week-long event, featuring nationally recognized speakers and experts on school safety and school climate. According to the Foundation, the Symposium "examines lessons learned from traumatic events and reveals new preemptive school safety measures." Attendees included school safety team members, administrators, first responders, victim advocates, and volunteers.
To learn more about SchoolSAFE Communications, visit schoolsafecom.org. To learn more about the I Love U Guys Foundation, visit iloveuguys.org.
Contact:
Tori Tucker
tori@qdscorp.com
303-680-1899
Share: